About
"Harry Black, center wearing red hat"
Catoctin Mountain Orchard was started in 1948 when Harry Black, who was working for the owner Iran Kelbaugh, helped start and build an open-air retail market just north of Thurmont, Maryland along Rt. 15. Prior to the 1948 opening of the orchard market, 95% of the Catoctin apples and peaches were marketed through wholesalers in the Baltimore-Washington-Virginia area. In 1961, Harry and Helen Black made the final payment to Ira Kelbaugh to purchased the farm.  Several changes were made over the next seven years included building three cold storage rooms, four Irrigation ponds and an Apple grader to wash and size the Apples. Customers started asking for other Fruit, Berries, & Vegetables. Harry talked with several Extension Agents to give him advise on diversifying his Apple and Peach crops by adding Cherries, Plums, Pears, Concord Grapes,  Black Raspberries, & Vegetables to give customers more variety.
Portable irrigation pipe was used to for Irrigation to help keep our Trees and Plants growing strong to produce a great crop when "Mother Nature" was not providing any rain fall. In 1976, it rained a 1/2″ of rain every 7 to 10 days throughout that year. Dad noticed how All crops grew so well producing a great crop ,but also good growth on the trees to produce a another great crop the next year!!
Dad contacted John Nye who started and owns Trickle-Eez Irrigation Company based in Saint Joseph, Michigan. John stopped by in the Spring ofswitched to Drip or Trickle Irrigation on the entire Farm. This new practice flows water through miles of 1/2″ tubing that run down each row Trees, Berries, & Vegetables at low pressure using small Electric pumps conserving Water and Energy while keeping our plants stress free to grow a great crop!
The farm covers 100 acres and is divided into 70 percent orchard, 20 percent vegetables, cover crops, and other produce. The major crops produced are Apples, Peaches, Cherries,  Nectarines, Pears, Apricots, Plums, Black Raspberries, Blueberries, Blackberries, Kiwi Berries, Concord Grapes, and assorted vegetables. In 1983, the family decided to close up the open-air market and build a 50′ x 50′ addition with heating and air conditioning and blacktop parking. Over the past few years, the farm has further expanded by creating a Playground area for both young and old, a "Cut Your Own Flowers" area and one of the most popular additions, the Bakery.
"We are always planting and testing new varieties of all fruit and berries always looking for the juiciest, best tasting varieties that can be grown here on the eastern slope of the Appalachian Mountain Range" Says Robert Black co-owner of Catoctin Mountain Orchard.
Today, the 2nd, 3rd, & 4th generation of the Harry Black Family work very hard to bring you the safest, best tasting Fruit, Berries & Vegetables that can be grown on our rich soils that we strive to improve and protect for generations to come!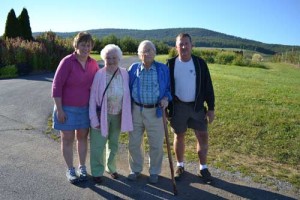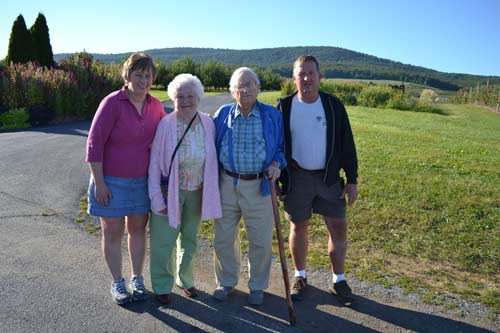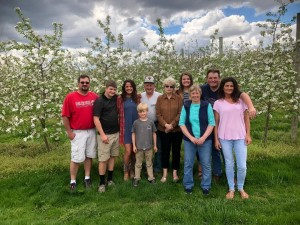 Harry Black Family