Apple Variety Guide
Use this handy guide to help identify the apples you pick at Catoctin Mountain Orchard during pick-your-own season!
For more information about apple varieties please call 301-271-2737
---
Autumn Gala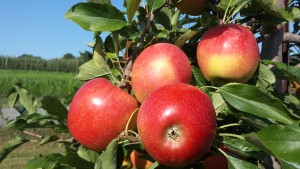 This sweet crunchy apple is one of our first apples for our Pick Your Own. With its great color of a light red and yellow, not only do they look pretty but they taste great as well!
---
Blondee
Blondee has a Smooth yellow skin with slight russeting at the stem and scattered tan-colored pores. It has a unique sweet-tart flavor, with a crisp & juicy white flesh. Excellent for eating fresh and for cooking in your favorite recipe
---
September Wonder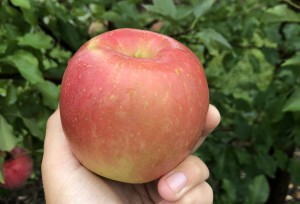 September Wonder is an early Fuji that still has the same sweetness and crunch as the original Fuji. This apple has a darker pink blush to the skin and smaller in size, great snack size apple and also for school lunches.
---
Crimson Crisp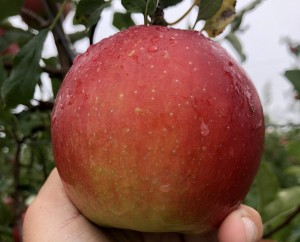 Our customer favorite is what keeps them coming back for more. Its great medium tart flavor and crunchiness will WOW your taste buds!
---
Cortland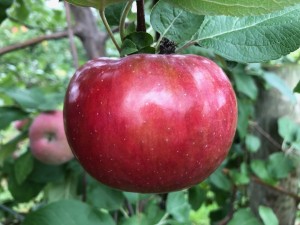 What better apple to bake with than Cortland itself! Being a medium tart apple its not too sweet for a pie but also not too tart. Its white flesh is the key to baking because it allows the apple to soften down when you bake with it.
---
Jonagold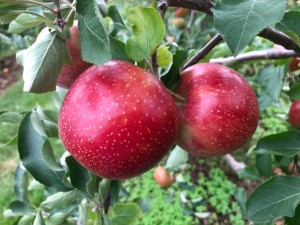 The Jonagold is popular to most of those that love either a Golden Delicious or Jonathan because those are the two apples that the Jonagold is crossed with. When you put a sweet and tart apple together it gives it a taste like honey. Crunchy, hard and full of flavor. This  apple is distinct for its freckles on the skin and dark red blush.
---
Mountain Honey..

coming soon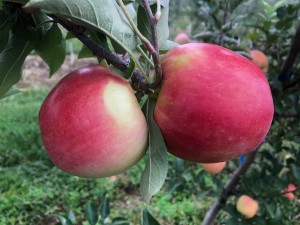 Mountain Honey is a relatively new apple to Catoctin Mt Orchard with a red blush on a buttery yellow skin close in comparison to our Autumn Gala. It is a sweet, crunchy apple with a thin and tender peel.
---
Cameo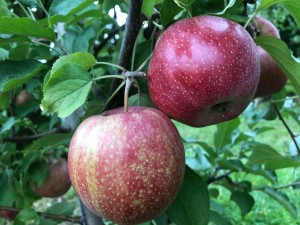 Cameo apples are covered in red stripes with a thin skin and delicate texture. Its flesh is dense and creamy white to yellow in color with a crisp and juicy texture. The Cameo's flavor is the perfect balance of sweet and tart with nuances of both honey and citrus.
---
Evercrisp
---
Stayman
---
Pink Lady
---
Fuji
---