WELCOME TO
CATOCTIN MOUNTAIN ORCHARD
RETAIL FARM MARKET 
Open Daily 9am – 5 pm
---
What's Growing on?
Dark Sweet Cherries are NOW IN! Stop by our market and snag yours today.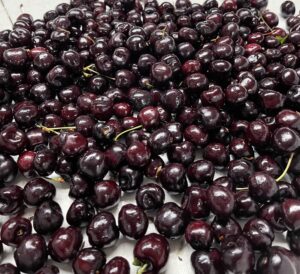 Apricots are now for sale in our market!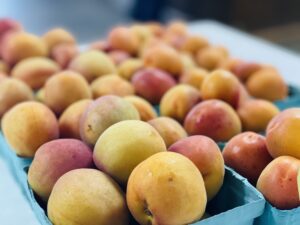 Strawberries are still available in our market. Get some for Strawberry Short Cake, Strawberry Sundaes, Strawberry Smoothies & Milkshakes!
To view our full list of Fresh Produce, Snacks and Outdoor Supplies click here
To view our full list of jarred items, pickles and more Click here 
---
Plant a variety of Apple Trees
We are selling individual Apple Trees for you to take home and plant. We currently have Fuji, Gala, Pink Lady, Honeycrisp & CrimsonCrisp trees for sale. Colorful Hanging Baskets and Planter Pots are also available.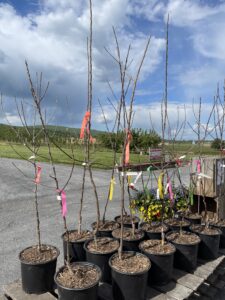 ---
In the Eye of the Farmer
Our day to day jobs can change in a second because we work around the weather. On dry days we are laying plastic rows in our fields to eventually plant vegetables or flowers on for our pick your own flowers. Picking fresh kale, lettuce, and Swiss chard  in our green house daily. We are still catching up on pruning peach, and apple trees. 
---
Pick Your Own Apples
Pick Your Own Apple crop is looking great for the 2021 season. Thank you to everyone who brought their Families & Friends to have a Great time picking the many varieties we have to offer. We look forward seeing you soon.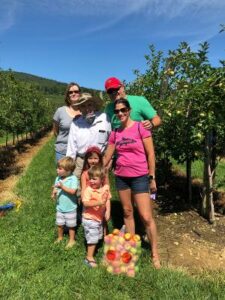 ---
Farm To School Lunch Program
We are proud to supply a variety of Apples, Plums, Peaches, Nectarines, Kiwi Berries, & Pears to Frederick County Public School Lunch Program. Students enjoy our Apples nearly all school year!
Contact us with your questions or concerns