WELCOME TO
CATOCTIN MOUNTAIN ORCHARD
RETAIL FARM MARKET 
15036 North Franklinville Road  Thurmont, MD
301-271-2737    cmoinfo@aol.com
  Market is now Open to Customers Daily from 9 am to 5 pm. 
Market Rules: You Must wear a face mask at all times when in the Market. If you touch something please buy it. Restrooms are out of service. Curbside Pick Up will still be available. Please Call or Email your order in on the day before you plan to Pick Up.
Strawberries Now Available! 
Apples (Medium – Large Size): Gala, Pink Lady, Golden Delicious, Goldrush and Fuji 
Quart Box $5 
1/2 Peck Box $11.25
Peck Box $17
1/2 Bushel Box $25

 
Evercrisp Apples (Medium – Large Size)
Quart Box $5.75
1/2 Peck Box $13
Peck Box $19.50
1/2 Bushel Box $29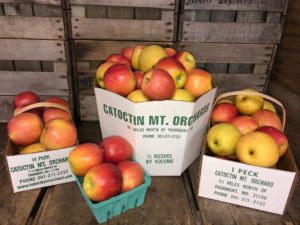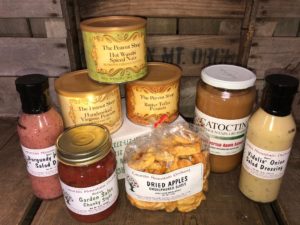 Limited supply School Size Apples Peck Bag $10 – 1/2 bu. $18
2nd Apples (Mixed Variety) 1/2 Bushel $10
Strawberries Pint box $4 Quart box $6.50 (Catoctin Grown)
Canned Peaches (No Sugar or Med. Syrup 28oz) $4
Mixed Lettuce 1/2 lb bag $4 
Fresh Kale 1 lb bag $2.50
Fresh Spinach 1/2 lb bag $4
Fresh Asparagus $4.85 a bunch
Spring Onions  $2.25 a bunch
Local Eggs 1 dozen $4 
8oz bag Dried Apples $7
Fresh or Frozen Apple Cider Gallon $7      Half Gallon $5
Pretzels, Popcorn and More
Fresh Baked or Frozen Pies, Apple Dumplings, Frozen Meat Pies  See Variety List

Apple Sauce, Jams, Pickles, Salad Dressing, Maple Syrup

Jarred Products
* How will the Curbside Pickup work? When you arrive at our market park in the designated parking spaces along side the market for "Curbside Pickup". Call when you arrive and please stay inside your vehicle. We will accept cash, credit card ($10 minimum) and checks for payment. 
*How will I know that my order was received? You will receive a confirmation email. Please leave your Phone Number and First & Last Name when ordering.
*How long will Apples keep? Properly store your apples in the fridge to maintain quality for several weeks. 
*What are 2nd apples? 2nd apples will have a small defect or bruise but are still great for eating or cooking. 
Cut Your Own Flowers mid June

!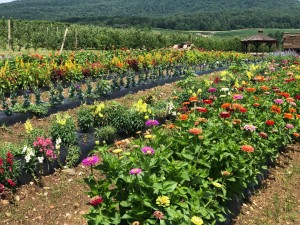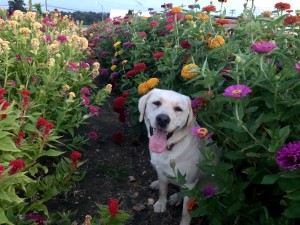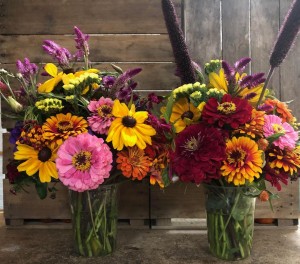 Farm To School Lunch Program
We are proud to supply a variety of Apples, Plums, Peaches, Nectarines, Kiwi Berries, & Pears to Frederick County Public School Lunch Program. Students enjoy our Apples nearly all school year!
Contact us with your questions or concerns