WELCOME TO
CATOCTIN MOUNTAIN ORCHARD
RETAIL FARM MARKET 
15036 North Franklinville Road Thurmont, MD  •   301-271-2737  • cmoinfo@aol.com       
Market Open Daily from 9 am to 5 pm
Market Rules: You Must wear a face mask at all times when in the Market. If you touch something please buy it. Restrooms are out of service. However, Two "Port A Pots" are on site. Curbside Pick Up will still be available. There is a $3 service charge for Curb Side Pickup.  Please Call or Email your order in on the day before you plan to Pick Up. 
 Peach Season is Here! Time to Can, Freeze, or enjoy Fresh Eating them!
Sugar Cube Melons "

Small in Size-Mighty in Taste

!"

Blueberries in Pints  few left


 Sunhigh Yellow Peaches 

White Lady Peaches 

Blue & Red Sweet Plums

Paula Red & Summer Rambo Apples 

Blackberries

Apricots  few left

Yellow & White Nectarines 

Watermelon

Honeydew
Fresh Vegetables
Fresh Kale 1 lb bag

Swiss Chard 1/2 lb bag 

Tomatoes

Green Bell Peppers

Eggplant 

Cucumbers & Pickling Cukes 

Summer Squash & Zucchini Squash

Cabbage
Local Eggs  

Green Beans

Beets
Baked Goods
Fresh Baked or Frozen Pies See Variety List

Apple Dumplings

Cookies, Pound Cakes & Loafs 

Frozen Meat Pies

Sand Tarts 
Jarred Goods & Snacks
Canned Peaches (No Sugar or Med. Syrup 28oz)

8oz bag Dried Apples 

Apple Cider – Quarts 

Pretzels, Popcorn and More

Apple Sauce, Jams, Pickles, Salad Dressing, Maple Syrup

Jarred Products
Cut Your Own Flowers
9 am to 4:45 pm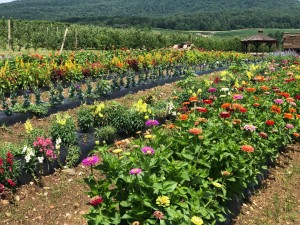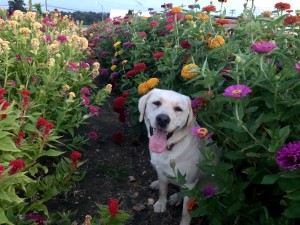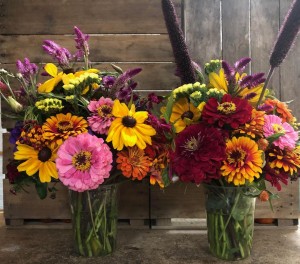 * How will the Curbside Pickup work? After ordering you will receive a confirmation email. When you arrive at our market, park in the designated parking space along side the market for "Curbside Pickup". Call when you arrive to let us know you are here. We will accept cash, credit card ($10 minimum) and checks for payment. 
Farm To School Lunch Program
We are proud to supply a variety of Apples, Plums, Peaches, Nectarines, Kiwi Berries, & Pears to Frederick County Public School Lunch Program. Students enjoy our Apples nearly all school year!
Contact us with your questions or concerns